Please refer to Internet Class 8 Computer Science notes and questions with solutions below. These revision notes and important examination questions have been prepared based on the latest Computer Science books for Class 8. You can go through the questions and solutions below which will help you to get better marks in your examinations.
Class 8 Computer Science Internet Notes and Questions
Question 1 International Network of Computers is known as ____________
a. ARPANET b. INTERNET c. INTRANET d. ETHERNET
Question 2 WWW stands for ______________
a. World Wide Web b. World Web Wide c. Web World Wide d. Wide Web World
Question 3 ____________ is an online conversation over internet.
a. E-Commerce b. Chatting c. E-Mail d. World Wide Web
Question 4 _________ is the fastest way of sending mails.
a. Telegram b. WhatsApp c. ISP d. E-Mail
Question 5 ___________ is a device that connects a computer with Telephone Line.
a. Modem b. Mouse c. Telephone d. Mobile
Write True or False
Question 1 A webpage is a collection of websites.
Question 2 Internet Explorer is the name of ISP.
Question 3 Facebook is one of the popular Social-Networking website
Question 4 Internet Computers communicate through network.
Question 5 the software that allows you to explore information on the web is called Website.
Write the full forms (Very Short Answer Type Questions)
• WWW – World Wide Web
• ISP – Internet Service Provider
• DSL – Digital Subscriber Line
• PC – Personal Computer
• MODEM – Modulator Demodulator
• Kbps – Kilobits per second
• RAM – Random Access Memory
• ISDN – Integrated Digital Service Network
Short Answer Type Questions
Question 1 What is Internet?
Ans: Internet is also called International Network of Computers. In simplest form, it is also known as Network of
Networks. It is formed by computers that are spread over the world. Internet brings a new revolution in the world.
Internet communicates through computer networks. Internet services were started in India on dated Aug 15, 1995
by a government agency named VSNL (Videsh Sanchar Nigam Limited).
Question 2 Give Some Examples of Internet Service Providers.
Ans: Internet Service Providers is also called ISP. It is a company that provides us the services of Internet. Examples
of Internet Service Providers are given below:
• BSNL
• Airtel
• JIO
• Idea
Question 3 What do you mean by the term E-Commerce?
Ans: E-Commerce stands for Electronic Commerce. Doing Business with the help of Internet is known as ECommerce.
Using e-commerce websites, we can do shopping from home at any time. Amazon, Flipcart, Myntra etc.
are the most common examples of e-commerce websites.
Question 4 Define the term WWW.
Ans: WWW stands for World Wide Web. It is also known as WEB or W3. It is a collection of web servers. Information
is stored in the form of web pages in World Wide Web. Collection of webpages is called website. Each web page has
a unique address, which is known as URL (Uniform Resource Locater). Web-Browsers are used to view webpages.
Firefox, Google Chrome, Internet Explorer etc. are the commonly used web browsers.
Question 5 Describe the types of Internet Connections.
Ans: There are many types of Internet Connections. Following are the some common types of internet connection.
Anyone of them can be used to access internet.
• Dial Up
• Broadband
• Wireless
• DSL
• ISDN
Question 6 Tell about the E-Mail.
Ans: E-Mail stands for Electronic Mail. It is one of the most usable features of internet. It is the fastest way to send
mails. Using it, we can receive or send a message to anyone at any time in the whole world within seconds. Text,
Picture of any type of file can be sent or received using email. To send or receive emails, email address is required.
Gmail and Yahoo are the most commonly used email websites.
Question 7 What is Web-Searching?
Ans: Searching means to find something. Many types of unlimited information is available in the form of websites
and webpages. To find any type of information on these webpages is known as Web Searching. Search Engines are
used to find information on webpages. Search engines find the similar web pages and arrange them in the form of
list so that we can access the required information easily. Google is one of the most popular and used search engine.
Question 8 Write the Hardware requirements for internet.
Ans: For the usage of internet, following hardware components are required:
• A Personal Computer (PC)
• RAM of 128 MB or More capacity
• Telephone Line Connection
• MODEM
Long Answer Type Questions
Question 1 What is Modem? Also explain its type and speed.
Ans: Modem stands for Modulator Demodulator. It is a communication device. It is used to convert digital signal into
analogue signal and vice versa. It is required to access internet.
Types of Modems:
Modems are of following two types:
• Internal Modem: These modems are fitted inside the System Unit. These
modems are slower as compared to External modems.
• External modems: It is a separate external device. It is faster than internal
modems. Normally, speed of these modems is 56 Kbps.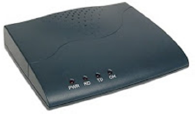 Question 2 Explain the tasks performed by network and internet.
Ans: Following are the common tasks performed by the network and internet:
1. We can watch the news of worldwide using internet.
2. We can access the information about various topics with the help of internet.
3. We can entertain ourselves with the help of internet
4. We can do shopping from home with the help of internet
5, We can access the information related to our health and fitness with the help of internet.
6. We can book tickets of railway and flights from home with the help of internet.
7. We can communicate with people by using social networking sites with the help of internet.
Question 3 What are the main services provided by internet? Explain briefly.
Ans: Following are the common services provided by the internet:
1, E-Mail: It is the facility of sending or receiving messages throughout the world.
2. Chatting: It is the facility of online conversation over internet.
3. E-Commerce: it is the facility of doing business with the help of internet.
4. Searching: It is the facility of finding information over internet.
5. Video Conferencing: It is the face-to-face online conversation using web-camera with the help of internet.
6. Downloading: It is the facility of getting various types of files from internet.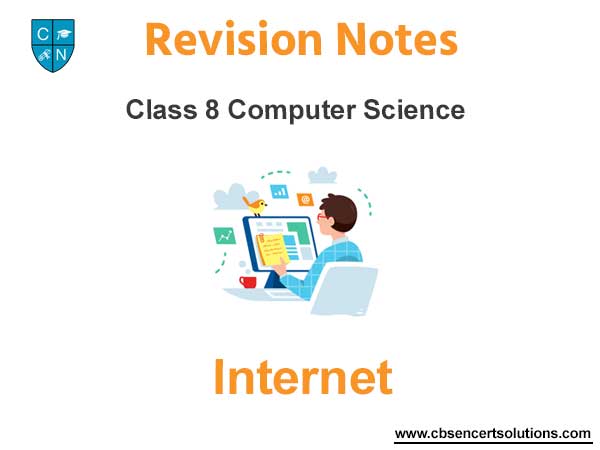 We hope the above Internet Class 8 Computer Science are useful for you. If you have any questions then post them in the comments section below. Our teachers will provide you an answer. Also refer to MCQ Questions for Class 8 Computer Science