Click on links below to read and download important questions, answers and Class 12 Computer Science Notes. These important Q&As have been designed by our teachers based on the latest pattern of examinations which are held in CBSE schools. You can refer to the chapter wise concepts, important problems given below so that you can use them to prepare for your tests and get better marks in your exams
Class 12 Computer Science
The following chapter wise revision notes and important questions with solutions for class 12 Computer Science has been prepared by expert teachers for the benefit of students. These notes will help you to revise entire syllabus and will be really useful for revision just before your exams. Also refer to the questions and answers as you will understand the type of questions which can be asked in upcoming exams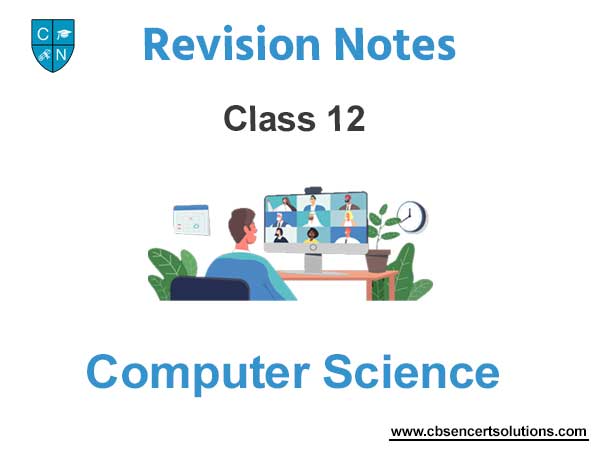 Refer to the notes and questions above for class 12 Computer Science which have been prepared based on the latest syllabus and examination guidelines issued by CBSE and NCERT. The chapter-wise notes have been prepared to keep into consideration all the important topics that can come in the computer science class 12 examination and have been covered in the above concepts. Students are advised to read them and use these concepts for preparing for their Class XII exams which will help them to get better marks. Class 12th students are advised to practice computer science notes and worksheets on a daily basis so that this will help them to thoroughly understand all the concepts which have been taught in the NCERT book for class 12 computer science and will reduce the stress and burden for the exams at the end of the year. If you refer to our website for all such study material for class 12 computer science then for sure you will be able to get all the required resources at a single place and that too free. We have provided all the required study material for computer science in class 12th so that you can prepare them and also use them offline whenever you want. are expert teachers who have prepared this content keeping into consideration the requirements of all students so that you don't have to struggle to get any further material from any other website. In case you face any challenge in understanding any of the concepts then you can send us a quick email through our contact us page so that our teachers will look into your query and resolve it immediately.
Importance of Revision Notes for Class 12 Computer Science
a) As Computer Science is a very scoring subject for class 12 therefore the students should go through the notes and its questions carefully to score better marks
b) The notes provided here have been designed in a manner that will help the Standard 12 students to revise computer science prior to the exams so that all important topics given in various chapters are covered and are easily revised by the students
c) Computer science notes for grade 12 have been developed by the best teachers keeping into consideration the latest syllabus and curriculum issued by CBSE and NCERT
d) If you go through these notes, take out print outs and refer them on a daily basis then you will be able to get higher grades in computer Science examination in 12th class
Frequently asked questions
Where can I get the latest notes for class 12 computer science?
You can get the latest and the best revision notes for class 12 computer science prepared for each chapter in your book from our website https://www.ncertbooksolutions.com
I want free notes of computer science subject in class 12 to learn the basic concepts. Where can I download these concept notes in PDF format?
You have come to the right place to get these notes as on our website we have provided the best written notes for you for computer science and can be downloaded in a single click in PDF format
Are the revision notes made as per the latest curriculum issued by CBSE?
Yes the chapter wise notes which we have provided here have been designed keeping into consideration the latest syllabus which has been issued by CBSE, NCERT and KVS
I want short revision notes which can be used on the day of the examination of computer science in standard 12, where can I download these notes for free?
On our website we have provided all short chapter wise notes which can be used on the day of the exam by the students and can also be downloaded for free for the benefit of students