Check the below NCERT MCQ Class 12 Political Science Chapter 1 Challenges of Nation Building with Answers available with PDF free download. MCQ Questions for Class 12 Political Science with Answers were prepared based on the latest syllabus and examination pattern issued by CBSE, NCERT and KVS. Our teachers have provided below Challenges of Nation Building Class 12 Political Science MCQs Questions with answers which will help students to revise and get more marks in exams
Challenges of Nation Building Class 12 Political Science MCQs Questions with Answers
Refer below for MCQ Class 12 Political Science Chapter 1 Challenges of Nation Building with solutions. Solve questions and compare with the answers provided below
Question. What was the stand of Indian Government on partition?
(A) India did not respond at all.
(B) India wanted peace, harmony and equality of religion.
(C) India wanted to become a Hindu nation.
(D) None of the above.
Question. Khan Abdul Gaffar Khan, the undisputed leader of the North Western Frontier Province was known as:
(A) Frontier Gandhi
(B) Father of Pakistan
(C) Staunch Muslim
(D) Patriot of Pakistan
Question. What was Jawahar Lal Nehru's first speech called?
(A) Wake of the Nation
(B) Breaking of Tyranny
(C) Tryst with Destiny
(D) None of the above
Question. Which state was carved out of Assam from the following:
(A) Meghalaya
(B) Sikkim
(C) Manipur
(D) Tripura
Question. Who was India's Deputy Prime Minister at the time of integration of princely states?
(A) Jawahar Lal Nehru
(B) Dr. Bhimrao Ambedkar
(C) Narsimha Rao Reddy
(D) Sardar Vallabhbhai Patel
Question. Which of these statements about the princely states is incorrect:
(A) Some of the princely states clearly wanted to become part of the Indian Union.
(B) The Indian government was ready to give autonomy to some regions.
(C) The ruler of Junagadh had decided not be an independent state and be part of independent India.
(D) Princely states covered one third of the land area of the British Indian Empire.
Question. When did Mahatma Gandhi die?
(A) 30th January 1948
(B) 31st January 1948
(C) 30th December 1948
(D) 30th November 1948
Question. Which one of the following leaders played an important role in the integration of princely states with India?
(A) Jawahar Lal Nehru
(B) SardarVallabhbhai Patel
(C) C. Rajagopalchari
(D) Dr. B. R. Ambedkar
Question. The 'Two-Nation Theory' was based upon:
(A) expansion of India
(B) bifurcation of the states
(C) partition of India
(D) All of the Above
Question. How were the boundaries of the states decided?
(A) On the basis of locality
(B) On the basis of linguistic principles
(C) On the basis of area
(D) None of the above
Question. What was India's partition plan called?
(A) Gandhi Plan
(B) Nehru Plan
(C) Mountbatten Plan
(D) Jinnah Plan
Question. Reorganisation of the North-East was completed in:
(A) 1962
(B) 1972
(C) 1982
(D) 1992
Question. Sardar Vallabhbhai Patel faced key challenges of integration in which of the following states.
(A) Hyderabad, Moradabad, Junagarh
(B) Hyderabad, Sikandrabad, Jammu
(C) Hyderabad, Junagarh, Kashmir
(D) Jammu, Junagarh, Kashmir
Question. What was the first among the three challenges to India while building a nation-state?
(A) building a united nation
(B) poverty
(C) communal tensions
(D) All of the above
Assertion (A) is followed by a statement of Reason (R). Mark the correct choice as:
(A) Both (A) and (R) are true, but (R) is the correct explanation of (A).
(B) Both (A) and (R) are true, but (R) is not the correct explanation of (A).
(C) (A) is true, but (R) is false.
(D) (A) is false, but (R) is true.
Question Assertion: The Nizam of Hyderabad never negotiated with Sardar Patel. He was not at all agreed to accept any offer to join India.
Reason: The Nizam wanted an independent status for Hyderabad.
Question Assertion: The British Government took the view that all these 565 states were free to join either India or Pakistan or remain independent if they so wished.
Reason: This was a very serious problem and could threaten the very existence of a united India.
Question. Assertion: It was decided to follow the principle of religious majorities for the partition.
Reason: The process of partition was smooth and none of the violence took place.
Question. Assertion: The problem was that two of the Muslim majority provinces of British India, Punjab and Bengal, had very large areas where the non-Muslims were in majority.
Reason: It was decided that these two provinces would be bifurcated according to the religious majority at the district or even lower level.
Question. Assertion: The Constitution also set out in the Directive Principles of State Policy the welfare goals that democratic politics must achieve.
Reason: On 14-15 August 1947, not one but two nation-states came into existence – India and Pakistan.
Question. Assertion: The interim government took a firm stance against the possible division of India into small principalities of different sizes.
Reason: Before 15 August 1947, peaceful negotiations had brought almost all states whose territories were contiguous to the new boundaries of India, into the Indian Union.
Question. Assertion: India adopted representative democracy based on the parliamentary form of government.
Reason: These features ensure that the political competition would take place in a democratic framework.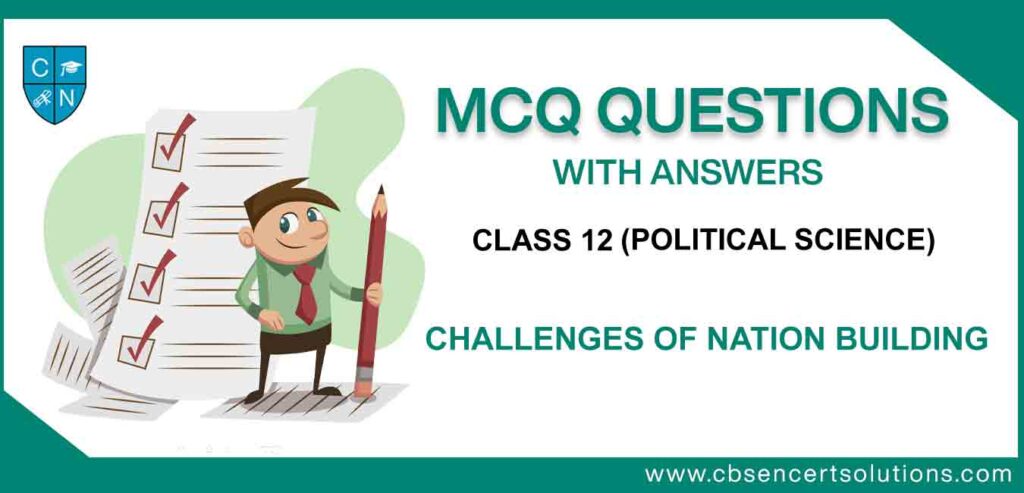 We hope you liked MCQ Class 12 Political Science Chapter 1 Challenges of Nation Building with answers provided above. Incase you have any questions please post them in the comments section below and our Political Science teachers will provide a response.