Students can refer to the following Social Studies Class 4 MCQ Questions with Answers provided below based on the latest curriculum and examination pattern issued by CBSE and NCERT. Our teachers have provided here collection of multiple choice questions for Social Science Class 4 covering all topics in your textbook so that students can assess themselves on all important topics and thoroughly prepare for their exams
Social Studies Class 4 MCQ Questions with Answers
We have provided below chapter wise Social Studies Class 4 MCQ Questions with answers which will help the students to go through the entire syllabus and and practice multiple choice questions provided here with solutions. As Social Science MCQs in Class 4 pdf download can be really scoring for students, you should go thorough all problems provided below so that you are able to get more marks in your exams.
Social Studies Class 4 MCQ Questions
Choose the correct answer:
Question.The main occupation of the people in villages is
(a) Driving
(b) Cleaning
(c) Agriculture
(d) Singing
Question. The place where goods of daily use are produced is called
(a) Hotel
(b) School
(c) Factory
(d) Office
Question. Process of producing fabric from yarn is
(a) Teaching
(b) Nursing
(c) Weaving
(d) Photography
Question. Teacher at a university level is called a/an
(a) Trainer
(b) Professor
(c) Preacher
(d) Architect
Question. Doctors get their training from
(a) Medical colleges
(b) Engineering colleges
(c) Architect colleges
(d) Arts colleges
Question. Regular records of patients are kept by
(a) Nurses
(b) Teachers
(c) Policemen
(d) Weavers
Question. Which of the following duty is not performed by policemen?
(a) To investigate crime
(b) To maintain law and order
(c) To impose fines
(d) To teach
Question. A person who explains your chapter is your
(a) Driver
(b) Cook
(c) Teacher
(d) Coach
Question. Things used by embroiderers to do their work are
(a) Chalk & Duster
(b) Injection & Medicine
(c) Needle & Thread
(d) Clay & Wheel
Question. Doctors perform
(a) Designing
(b) Repairing
(c) Surgery
(d) Advertising
Question. The work that a person does to earn money is called
(a) Passion
(b) Occupation
(c) Earning
(d) Trade
Question. Professionals who instruct and educate children are called
(a) Doctors
(b) Nurses
(c) Potters
(d) Teachers
Question. People specially trained for particular job are called
(a) Focused
(b) Skilled labourers
(c) Untrained
(d) Practised
Question. Person who takes care of patients is called
(a) Sweeper
(b) Nurse
(c) Potter
(d) Driver
Question. Weavers weave cloth with the help of
(a) Brush
(b) Loom
(c) Clay
(d) Chalk
Question. Professors teach at
(a) High school
(b) Pre primary school
(c) University
(d) Middle school
Question. A trained person who gives medicine to sick people
(a) Teacher
(b) Engineer
(c) Architect
(d) Doctor
Question. Apart from agriculture the other occupation of village people is
(a) Driving
(b) Teaching
(c) Animal husbandry
(d) Cooking
Question. A person who makes beautiful bowls and vessels with clay and
wheel is a
(a) Weaver
(b) Potter
(c) Policeman
(d) Nurse
Question. Person who works with loom and yarn is a
(a) Potter
(b) Weaver
(c) Farmer
(d) Driver
Question. Embroiderers make beautiful design on
(a) Cloth
(b) Wall
(c) Jewellery
(d) Furniture
Question. Potters make articles by
(a) Wood
(b) Clay
(c) Metal
(d) Flower
Question. Nurses take care of
(a) Animals
(b) Patients
(c) Guests
(d) Visitors
Question. Which of the following aids are used by teachers
(a) Wheel and axle
(b) Chalk and duster
(c) Rope and pulley
(d) Needle and thread
Question. Doctors treat patients in a
(a) Hospital
(b) School
(c) Airport
(d) Park
Question. Some people have educational degrees which help them in getting
(a) Railway ticket
(b) Home
(c) Job
(d) Friend
Question. Weaving and embroidery are also considered as
(a) Craft work
(b) Dance
(c) Sports
(d) Games
Question. Potters bake articles in
(a) Kiln
(b) Oven
(c) Furnace
(d) Stove
Question. To check patients doctors use
(a) Screw
(b) Stethoscope
(c) Wheel
(d) Board
Question. People who maintain law and order are
(a) Firemen
(b) Policemen
(c) Engineers
(d) Mechanics
Our teachers have developed really good Multiple Choice Questions covering all important topics in each chapter which are expected to come in upcoming tests and exams, as MCQs are coming in all exams now therefore practice them carefully to get full understanding of topics and get good marks. Download the latest questions with multiple choice answers for Class 4 Social Science in pdf or read online for free.
The above NCERT based MCQs for Class 4 Social Science have been designed by our teachers in such a way that it will help you a lot to gain an understanding of each topic. These CBSE NCERT Class 4 Social Science Multiple Choice Questions have been developed and are available free for benefit of Class 4 students.
Advantages of Social Studies Class 4 MCQ Questions with Answers
a) MCQs will help the kids to strengthen concepts and improve marks in tests and exams.
b) Social Studies Class 4 MCQ Questions have proven to further enhance the understanding and question solving skills.
c) Regular reading topic wise questions with choices will for sure develop very good hold over each chapter which will help in exam preparations.
d) It will be easy to revise all Social Science chapters and faster revisions prior to class tests and exams.
Free Printable MCQs in PDF of CBSE Class 4 Social Science are designed by our school teachers and provide best study material as per CBSE NCERT standards.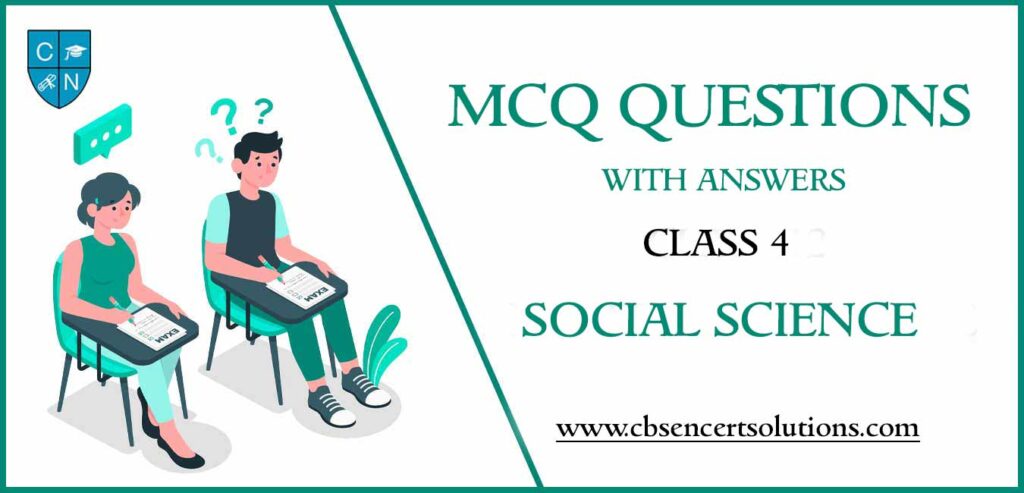 Where can I get MCQs for Social Science
?
You can easily get MCQs for Social Science from https://www.cbsencertsolutions.com
I want the latest MCQs based on this years syllabus ?
The MCQs for Class 4 Social Science with Answers have been developed based on current NCERT textbook issued by CBSE.
Can I print these MCQs ?
Yes – These Multiple Choice Questions for Class 4 Social Science with Answers are free to print and use them later.
Are all chapters covered ?
MCQs cover the topics of all chapters given in NCERT Book for Class 4 Social Science.
Are these free or is there any charge for these MCQs ?
No – All MCQs for Social Science are free to read for all students.
How do I download the MCQs ?
Just scroll and read the free MCQs.
Are these free multiple choice questions available for Social Sciencein standard MCQs format with Answers ?
Yes – you can download free MCQs in PDF for Social Science in standard MCQs format with Answers.